Not having a social media strategy means missing a huge amount of opportunities. Engaging on a regular basis on social media, and, most importantly, deliver content that provides value is at the core of a good social media communication strategy. But how can you create relevant content for your audience?
At Enigma, we developed our own social media post creation canvas. Instead of only planning each post on social media for the upcoming months (which is already a good thing), we designed a strategic canvas to identify promising content. So each post is thought strategically.
Download our free social media campaign canvas to prepare your next content and schedule publications that really create engagement and drive your brand's awareness. Following our canvas structure, you'll have the necessary knowledge to produce the content that users really want to read and share.
How to use the canvas?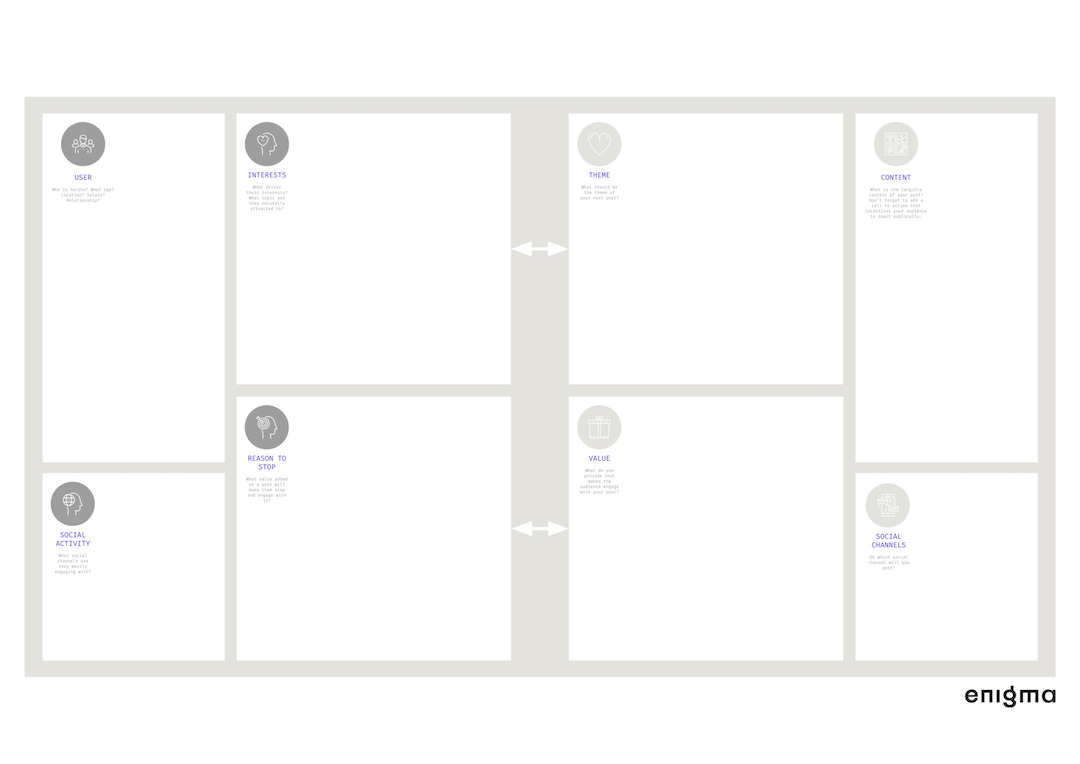 1 – Start with the audience
First, have a look at the left part of the canvas. This part is all about defining your target audience. Find the users that you want to target and describe them in the "user" block using post-its. This is mainly demographic information such as age, location, salary, etc.
1.1 Find their interests
In the "interest" block, describe what your audience is interested with. What topics are they naturally attracted to? What kind of media do they like interacting with? Do they prefer videos? Long or short texts? Infographics? Or a mix of them?
1.2 Understand the reason why they stop
When this audience is scrolling on social media, what is the trigger that could make them stop the scroll and actually concentrate on the content? Is it because the content makes them laugh? Or because it provides knowledge that can be useful in their work life? Or help them be successful in something they try to achieve? Mark those reason in the "reason to stop" block.
1.3 – Find where they are
Now, you need to know where those users are. Write which social media they use in the "social activity" block. This part is quite straightforward but ensures you are not wasting resources on pushing contents on the "wrong" channels.
2 – Create meaningful content
Now that you have a precise audience and know what they are looking for, you can finally start creating content. For each piece of content, you can use the right part of the canvas. For each new post, be sure to define a topic that resonates with audience's interests and a value that works as a trigger so the audience will more probably stop scrolling. Additionally, select the social channel which is more suited for that topic and value. Finally, describe the content's detail based on that research in the "content" block.
3 – Brief copywriters or start producing
If you're delegating content creation, you can use the canvas to communicate briefs to the copy team. Make sure to always emphasize on the links "value – reason to stop" and "theme – interests". Following this process will ensure your content is always meaningful to your audience, will increase traffic and ultimately improve your ROI of your social media strategy.